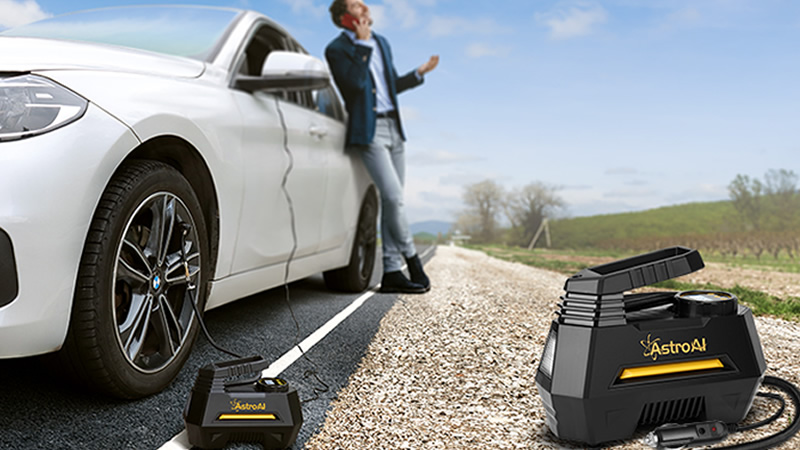 The AstroAI Tire Inflator is a high-quality and efficient tool for inflating your car's tires. With a fast inflation rate of 35 L/Min and professionally calibrated accuracy, this tire inflator can inflate a 195/55/R15 car tire from 0 to 35psi in under 5 minutes.
One of the standout features of the AstroAI Tire Inflator is its programmable inflation feature. By using the "M" button to set your desired pressure unit and the "+" and "-" buttons to set the desired pressure, the air compressor will automatically shut off when it reaches the pre-set pressure. This ensures that you can easily and accurately inflate your tires to the exact pressure you need.
In addition to its tire inflating capabilities, the AstroAI Tire Inflator also has a wide range of applications. With three nozzles and an extra fuse included, this air compressor can inflate any Schrader valve on cars, SUVs, motorcycles, and bicycles. The included accessories also allow you to quickly inflate balls, air pillows, cushions, balloons, and mattresses.
One of the other notable features of the AstroAI Tire Inflator is its large white backlight LCD screen, which makes it easy to read even in the dark. It is also equipped with an integrated LED flashlight with independent switch control for emergency use. The 12V 120W 10ft (3.05 meters) long heavy-duty car cigarette lighter cord makes it convenient to use, although it should be noted that it is not intended for use with a 110V AC plug and requires a 10A or 15A converter to use in a wall plug.
Overall, the AstroAI Tire Inflator is a reliable and versatile tool that is perfect for inflating tires and a variety of other inflatable items. It is a great gift idea for men and women, and the package includes everything you need to get started, including a user manual. If you have any questions or concerns, the manufacturer offers excellent customer support.