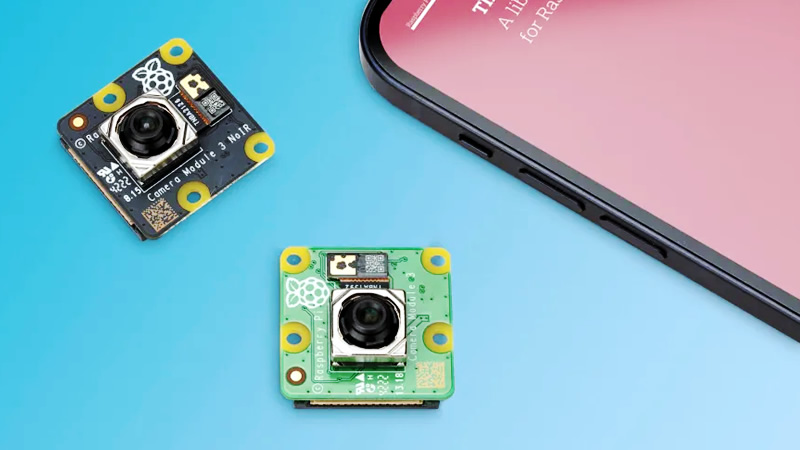 Raspberry Pi has released its first new camera module in six years, the Camera Module 3, which boasts improved features including higher resolution, infrared capability, HDR, powered autofocus, and a wide angle field-of-view (FOV). The new module features a Sony IMX708 chip, which is a 12-megapixel sensor that is larger and has more resolution than the previous 8-megapixel Sony IMX219 chip used in the Module 2. This results in sharper images and improved low-light sensitivity, as well as the ability to capture HD video up to 1080p50 using the entire sensor area.
One of the standout features of the Module 3 is its powered autofocus, which allows users to focus on objects ranging in distance from 5cm to infinity. This is a significant improvement on the fixed autofocus of the previous module. The standard FOV variants offer a 66 degree horizontal FOV, roughly equivalent to a 28mm full-frame lens, while the wide angle versions offer a 102 degree horizontal FOV, similar to a 14mm full-frame lens. The wide angle versions are slightly thicker, at 12.4mm compared to 11.5mm for the standard versions, due to their "more expensive and complex optical stack."
In addition to these improvements, the Module 3 also offers HDR capability, allowing it to take multiple simultaneous exposures with different exposure times, enabling users to capture interior shots with the correct exposure on both interior and exterior details. The NoIR (no infrared filter) versions of the module, which were first introduced with the Module 2, can be used to convert a Raspberry Pi into a night-vision camera.
The Camera Module 3 is available in four versions: standard and wide angle in both visible light and NoIR infrared. The standard versions are priced at $25, while the wide angle versions cost $35. They can be purchased from Raspberry Pi's online store. Overall, the Camera Module 3 offers significant improvements over the previous module, including higher resolution, powered autofocus, and a wider FOV, making it a solid choice for photographers and videographers looking to use their Raspberry Pi for professional-grade imaging.